We are excited to offer an FDA approved, non-surgical treatment of fine lines and wrinkles, facial sagging, acne and facial scars, uneven tone, texture and coloration called, Microneedling. Microneedling activates the natural restorative processes of the body, to transform blemished and damaged tissue into smoother, clearer, more vibrant skin.
Microneedling creates controlled micro-channels in the surface of the skin. Each micro-channel is surrounded by healthy tissue, which enhances the healing process.  In response to each micro-injury, an inflammatory healing process begins which initiates the formation of new collagen. Over time, the repeated healing process will build new collagen, creating healthier skin, improving the surface texture and the overall appearance of the skin. Optimal results are achieved with a series of 4-8 treatments spaced about 4-6 weeks apart.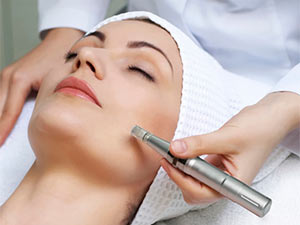 This procedure treats fine lines and wrinkles, hyper pigmentation (sun spots/age spots), sun damage, acne scars, stretch marks, thin skin density, rosacea, uneven tone or texture, and minimizes pores.  Microneedling  creates a sensation similar to a mild sunburn with temporary reddening of the skin for up to 24-48 hours post treatment. Most of the time, clients who have this procedure on a Friday should be okay to return to work on Monday and are allowed to wear makeup.
To get the most from microneedling,  Face Fitness uses a highly concentrated human growth factor serum derived from bone marrow Mesenchymal stem cells which are known to promote scar-less healing in an anti-inflammatory environment. Unlike stem cells derived from Adipose tissue (fat cells),  Bone marrow  stem cells provide a large volume of growth factors to aid in the repair process. This enhances anti-aging, pro-healing and anti-inflammatory benefits for faster results, stronger collagen production with shorter recovery time!
Very few non-invasive treatments provide the lifting, tightening, pore and scar minimizing effects of collagen induction the way Microneedling can. Comparable to Fractional laser treatment, it is a powerful collagen rejuvenation therapy suitable for virtually every skin type, without the downtime or large financial investment!
Call us today, 631-0964, for your personalized, one on one consult with our estheticians!