PFB Vanish is the first line of defense after shaving, waxing, tweezing, electrolysis & laser hair removal.
PFB is a unique, cosmetically elegant roll-on serum. This serum was formulated for ingrown hairs, razor burn and bumps. PFB Vanish contains exfoliating and moisturizing ingredients to maximize your results.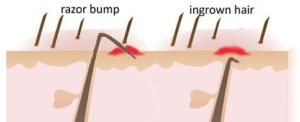 Some individuals- especially with heavy, curly hair-may develop ingrown hairs. Hair removal facilitates the process of ingrown hairs by "sharpening" the free hair end.Tender pimples then arise when closely cut hairs grow out and pierce the hair follicle or curl back and re-enter the skin to cause a foreign body reaction. This condition is called Pseudo Folliculitis Barbae- PFB.
Roll-on
PFB Vanish to affected areas morning and night two days prior to hair removal. After hair removal service, apply daily for maximum results.PFB Vanish reduces redness, irritation and prevents ingrown hairs.
Excellent results
Convenient Roll-on Applicator
No-mess Serum Formula
Soothing Moisturizers
Non-irritating Exfoliants with no chalky white residue
Physician endorsed
Cool feeling with Pleasant scent
Women- For preexisting ingrown hairs, apply PFB Vanish to dry skin morning and night to the affected areas until the ingrown hair lifts above the skin line.
Waxing or Electrolysis-Apply PFB Vanish 10 days prior to waxing. This helps to remove dead, dry skin cells. After waxing, apply PFB Vanish daily to maintain smooth skin.
Men- For preexisting ingrown hairs, apply PFB Vanish to affected areas morning and night. When shaving, use a single blade. Double and triple edge blades cut the hair too short which can then re-enter into the skin. Apply PFB Vanish after shaving daily and again at night. After it dries you can apply moisturizer or cologne if desired.
PFB Vanish + Chromabright
Two products in One: Skin Brightener & Bump Fighter
Same great ingredients as the original PFB Vanish and added powerful skin brightener to lighten dark spots.
Inner Thighs & Bikini Area
Underarms
Chin & Nape of Neck
Acne Scaring
All Ethnic Skin Types
For a consultation to help you determine the right products for your unique skin care needs, please call us at 716.631.0964 or  Click Here to schedule a consultation.
Save
Save